Save BIG Money on Toner Cartridges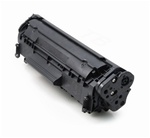 There are several remanufactured toner companies like Tonerboss that can save you a boat load of money, but TonerGreen.com claims to do the same while being environmentally responsible. TonerGreen gives back to the planet by supporting non-profit organizations that are dedicated to eco-friendly causes. When you buy your ink and toners from TonerGreen, 1% of your purchase is donated to EarthShare, an organization dedicated to connecting people to environmental nonprofits through workplace giving, volunteer opportunities, and environmental education.

If you compare prices, you will find that TonerGreen is in-line or better than the compitition.
Be a good steward of the earth, buy remanufactured toner, and save money. They offer a 1 Year Warranty and 100% Satisfaction Guaranteed on Toner and Ink Products
Get a $15 Target Card with Remanufactured Toner Cartridge Orders of Over $100 at TonerGreen.com. Use Coupon Code $15GC100 at Checkout.