How To Display RSS Feeds On Your Website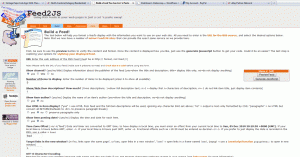 Feed2JS

Simply copy and paste the feed URL into this websites web application, fill in a bit of info, then crank out a java script that can be copy and pasted straight into your websites source code.

GOOGLE Ajax Feed API
Embed a Dynamic Feed Control on your web page and let your users see customized views of the feeds. Customize how the dynamic feed control should be displayed, and this wizard will write the code for you.